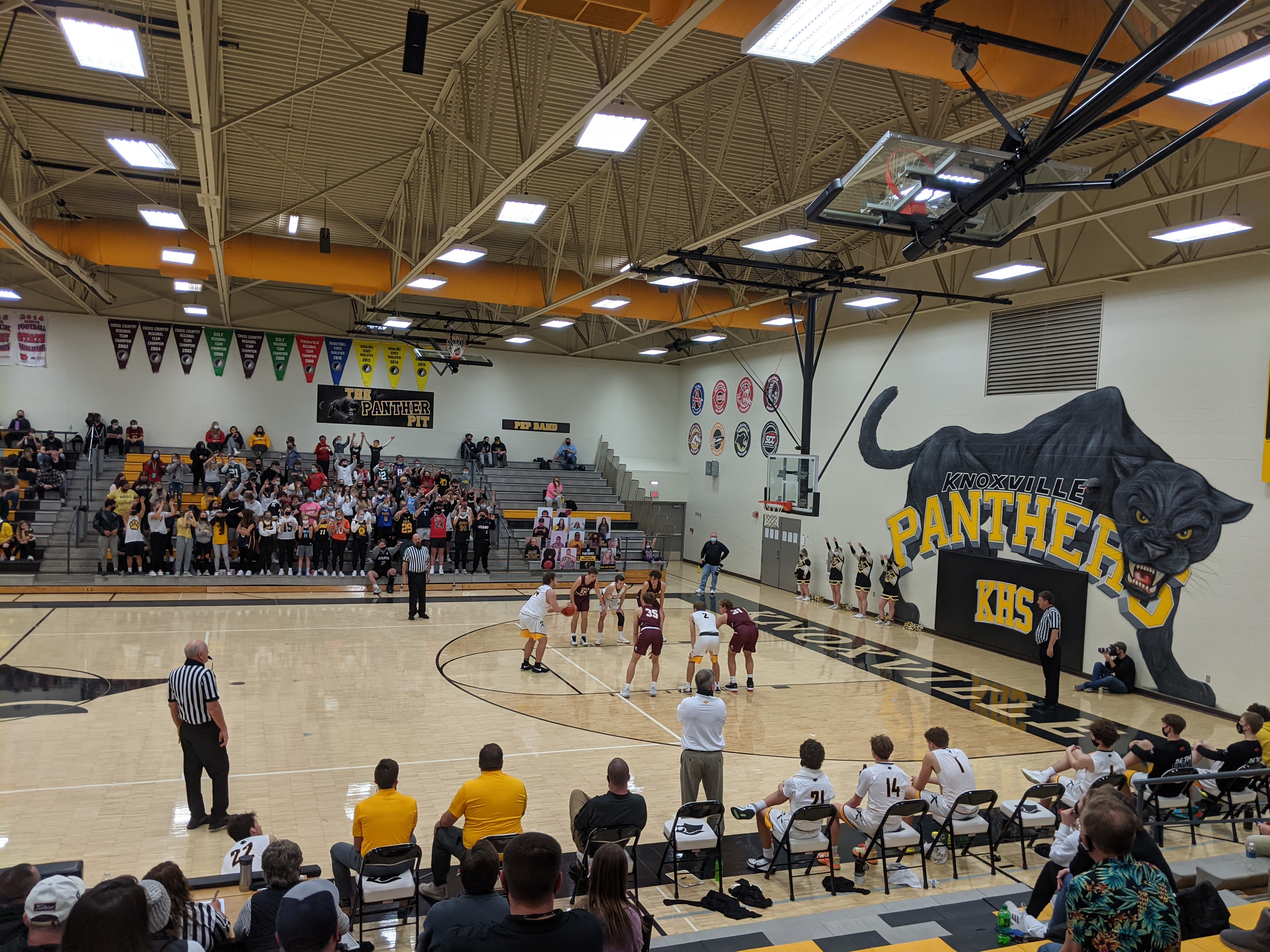 Pella Christian and Knoxville clashed on the basketball court at the home of the Panthers Monday, and despite a pair of close first halves, the Eagles pulled away in each game following the halftime breaks of a varsity doubleheader heard live on 95.3 KNIA and 92.1 KRLS.
P.C.'s girls were 51-40 winners, while the Eagles boys defeated the Panthers 75-59 at Knoxville High School.
The girls' opener featured a focused effort by the home team Panthers to shut out two-time All-Conference center Allison Van Gorp of P.C. — which worked until halfway through the 3rd quarter, as she was scoreless in the first 20-plus minutes. But while the Eagles post was silent, teammate Emma Witzenberg scored 13 of her 22 points in the first two quarters of a five-steal, eight rebound performance. The Eagles forced several Panthers' turnovers in the 3rd quarter to stretch the contest to a 10-point P.C. advantage, and the game never came back within two possessions over the final eight minutes. Van Gorp was a focal point in stretching the advantage, scoring all 16 of her points in the 2nd half, and adding six blocked shots over the course of the game for Pella Christian. Maggie Wilkins scored 20 points for Knoxville, and Marley McKay and Emma Dunkin each had eight.
In the nightcap, the Eagles flexed their post strength for the second straight game, as Eric Mulder spent his entire night largely controlling the paint on both sides of the floor and the Eagles slowly stretched their lead to six points by halftime, despite the Panthers gaining some momentum with a pair of threes by Luke Keitges on immediately on each side of the first quarter break. Pella Christian massively out-rebounded Knoxville on a 49-23 margin, and used 18 offensive rebounds to stretch their lead into unreachable territory after a 25 point 3rd quarter.
Eagles Boys Head Coach JD Boer was impressed with his team's continued development and a strong road performance as they are building momentum in the midpoint of the regular season.
Knoxville Boys Coach Jeff Larson, while disappointed with the loss, was happy with how his players competed and feels good about his team moving forward.
"Never been more happy after a loss in my life. We saw what the kids can do, and we told them we're going to hold them accountable because we saw what they can do, and if we play this hard going forward we'll be in good shape."
Eric Mulder was a force, and had a 25 point, 16 rebound, five block performance. Knoxville All-State Guard Kieren Nichols tallied 31 points.
Pella Christian's girls are 6-5 and the boys improve to 4-6; they are back in action tonight at Oskaloosa, while the Knoxville girls fall to 7-3 and the Panthers' boys are 5-3, and remain off until a roadtrip to Oscoela and Clarke on Friday. Hear the Eagles at Osky live at 6:00 this evening on 92.1 KRLS.