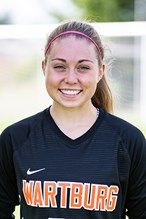 Going into her junior year for the Wartburg Women's Soccer program, former Knoxville Standout Kelsey Ryan is looking forward to getting back to a more normal way of life on campus and in the sport she loves most. Ryan and the Knights were forced to play this past spring due to having their fall season moved due to the pandemic. She tells KNIA/KRLS Sports it took everybody to make it through the spring season and be ready for a normal fall campaign this year.
Ryan:
"That was really a team effort. Our coach and coaching staff set a really good guideline and then it was up to us to set a good example for each other and look out for each other."
Ryan says the Knights are focused on winning the American Rivers Conference this fall and getting to the NCAA playoffs. Wartburg begins its 2021 fall campaign September 1st at home against Wisconsin-Stevens Point. The Knights travel to Simpson College on October 9th and play at Central College on October 16th. Find a full interview with Ryan, which airs on this week's Radio Sports Page on KNIA/KRLS in Today's Local Sports at kniakrls.com.