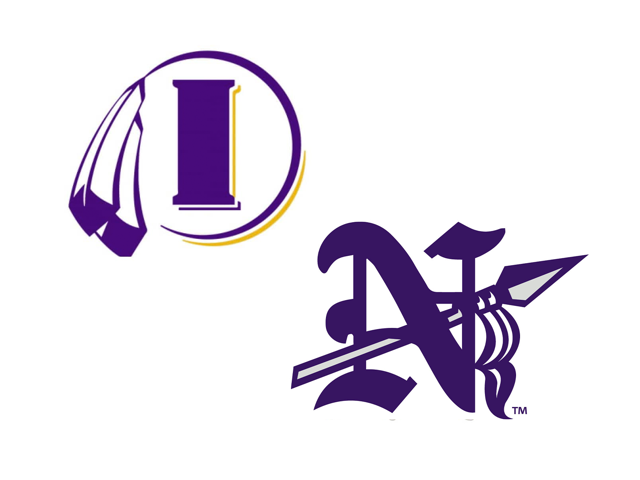 Indianola Basketball Earns Sweep of Warren County Rival Norwalk
The #5 Indianola girls survived an early double-digit deficit in the first quarter to come back and win 57-43, while the Indianola boys dominated from start to finish winning 72-39 as heard live on 94.3 KNIA.
The Norwalk girls dominated the first quarter on both sides of the ball, holding Indianola to just four points while making a trio of three point buckets, two from freshman Bailey Birmingham, to lead 17-4 after the first eight minutes in dominating fashion. After foul trouble plagued the Warriors in the second quarter, the Indians mounted their comeback buoyed by a 7-0 run in the last minute of the half to trail just 23-22 at the break. The two teams traded buckets throughout the third quarter, where Indianola pulled ahead behind 8 Emily Naughton points and got Indianola ahead 41-35, while Lauren Blake scored 12 fourth quarter points to pull the Indians away. Norwalk head coach Jill Martin said this was a rough stretch for the Warriors, but the team showed flashes of what they are capable of and they need to be more consistent.
"I let the girls talk first after the game, and anything I would have said to them coaching-wise they already said. They get it, we just need to execute for the whole game and they know how scary they are when they play like that, and they know that nobody really wants to play us. They may not say it but nobody wants to play us."
Birmingham led the Warriors with 11 points, while Blake had 21. Norwalk falls to 6-6 overall and 3-4 in Little Hawkeye Conference play, while Indianola is now 10-2 and 6-1.
The Indians boys dominated from start to finish on the defensive end against the Warriors, holding Norwalk to just three first quarter points leading 12-3, and scored 30 second quarter points on the back of seven three-point shots to lead 42-17 at halftime. Indianola outscored the Warriors again in the third as Brayden Drea hit his fourth three of the contest to produce a 58-29 lead, and coasted out to a running clock victory in the fourth against the tired Warriors. Indians head coach Jeff Ebling tells KNIA Sports the squad is now aware of what is possible on the defensive side, and they have to produce that night in and night out.
"If your defense is always there, even if your shooting isn't there, you are always in the ball game giving you a chance to win. Now that they've proved it, they can't go out and say they can't play good defense. I thought their rotations were good, they were reading and reacting, and they followed the scouting report really well, that's a tribute to these guys."
Braeden Carlson led the Warriors with 11, while Indianola had four in double figures led by Drea with 14. Norwalk falls to 5-6 and 3-4, while Indianola is now 7-3 and 5-2. The Warriors will play Monday at Carlisle, while the Indians travel to Sioux City West tomorrow.