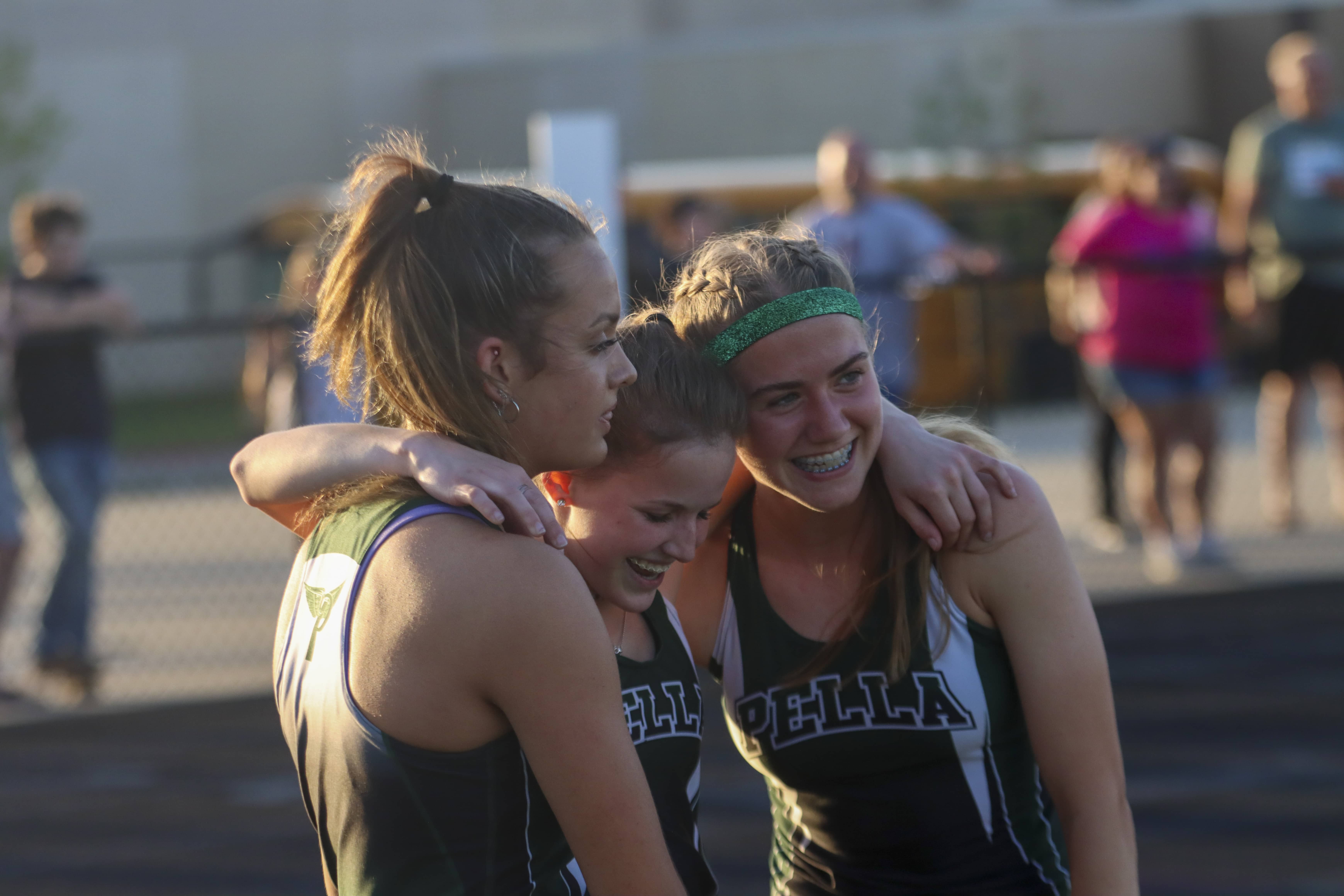 Continuing a rich tradition of excellence in track and field, the Pella boys and girls combined for 26 automatic state qualifiers and won the Class 3A District meet at Bondurant-Farrar Thursday.
The Dutch finished with at least one person in the top 3 of every event in boys competition, while the Dutch girls loaded up their relays to win the team race and send all but one of those events to the famous Blue Oval at Drake Stadium.
Hurdler Gage Huyser ended up essentially running in five different events due to a timing issue in the 110 meter hurdles, and says the stage is set for his team to have a lot of success yet again.
Distance runner Macy Schroeder was thankful to grab multiple bids herself individually and in relays, and believes the best is yet to come for this group in green and white.
Pella's defending 3A championship boys put themselves in prime position to repeat, and likely have several at-large bids that won't be released until Saturday due to weather cancellations in northwest Iowa.
Hear from Pella's state track and field qualifiers on next week's KNIA/KRLS Radio Sports Page, which airs every Wednesday at 6 p.m. and Thursday at 10 a.m. on 92.1 KRLS.
Knoxville competed at the Bondurant site as well, but the Panthers placed 8th in both team races and had no automatic individual state qualifiers.
Pella Boys:
100m – Noah Allen
110m Hurdles – Gage Huyser, Nolan Clayberg
200m – Quinn Gruver
400m – Karl Miller
400m Hurdles – Reece Thoreson, Gage Huyser
3200m – Nathan Vander Waal
Discus – Brandon Fischer
Shot Put – Brandon Fischer
Sprint Medley Relay – Nolan Clayberg, Gage Huyser, Quinn Gruver, Jrake Van Hemert
4×200 Meter Relay – Kenson Fuller, Quinn Gruver, Caleb Briggs, CJ Shetterly
Shuttle Hurdle Relay – Nolan Clayberg, Reece Thoreson, Luke Fairchild, Gage Huyser
4×400 Meter Relay – Jrake Van Hemert, Kenson Fuller, Reece Thoreson, Karl Miller
4×800 Meter Relay – Josiah Wittenberg, Trey Van Hauen, Karl Miller, Chase Lauman
Distance Medley Relay – Kenson Fuller, Quinn Gruver, Jrake Van Hemert, Chase Lauman
Pella Girls:
400m – Jacie Trine
800m – Macy Schroeder
3000m – Raegan Snieder
High Jump – Jasmine Namminga
Sprint Medley Relay – Emily McMartin, Marissa Hackman, Delanie Reynolds, Jacie Trine
4×100 Meter Relay – Delanie Reynolds, Calla Kerndt, Marissa Hackman, Emily McMartin
4×200 Meter Relay – Delanie Reynolds, Calla Kerndt, Mara Schiebout, Emily McMartin
4×400 Meter Relay – Maddie Schmitz, Mara Schiebout, Macy Schroeder, Jacie Trine
4×800 Meter Relay – Abby Teagarden, Maddie Schmitz, Abbey Bogaards, Macy Schroeder
Distance Medley Relay – Delanie Reynolds, Emily McMartin, Kelsey Tauke, Raegan Snieder