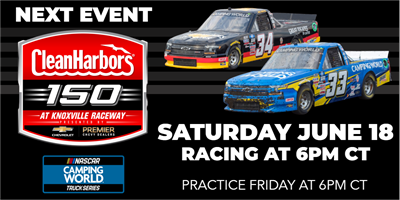 The NASCAR Camping World Truck Series will run the Clean Harbors 150 tonight at the Knoxville Raceway. Friday night the trucks had two practice sessions so teams could get their machines dialed in for tonight's action. Ben Rhodes was fastest with a time of :23.033 seconds and a speed of 78.149 miles per hour. Second fastest overall was Stewart Freisen at just under 77 miles per hour. Freisen is a part time driver along with his wife Jessica and Todd Bodine for Halmar-Friesen Racing. He tells KNIA/KRLS Sports it takes a lot of help to get the equipment up and down the long road of the NASCAR season, but tonight is one race he has circled on the calendar.
Friesen: "Lot of pressure on the guys in the shop to get the stuff turned around, and My wife Jess, along with Todd Bodine will run the truck and Jessica is entered at Knoxville. I'm a momentum guy and we're looking forward to what the season will bring."
Tonight's action begins with qualifying races at 6:00 with the final race at around 8:00. You can listen for live coverage on KNIA starting at 6:00 via Motor Racing Network.