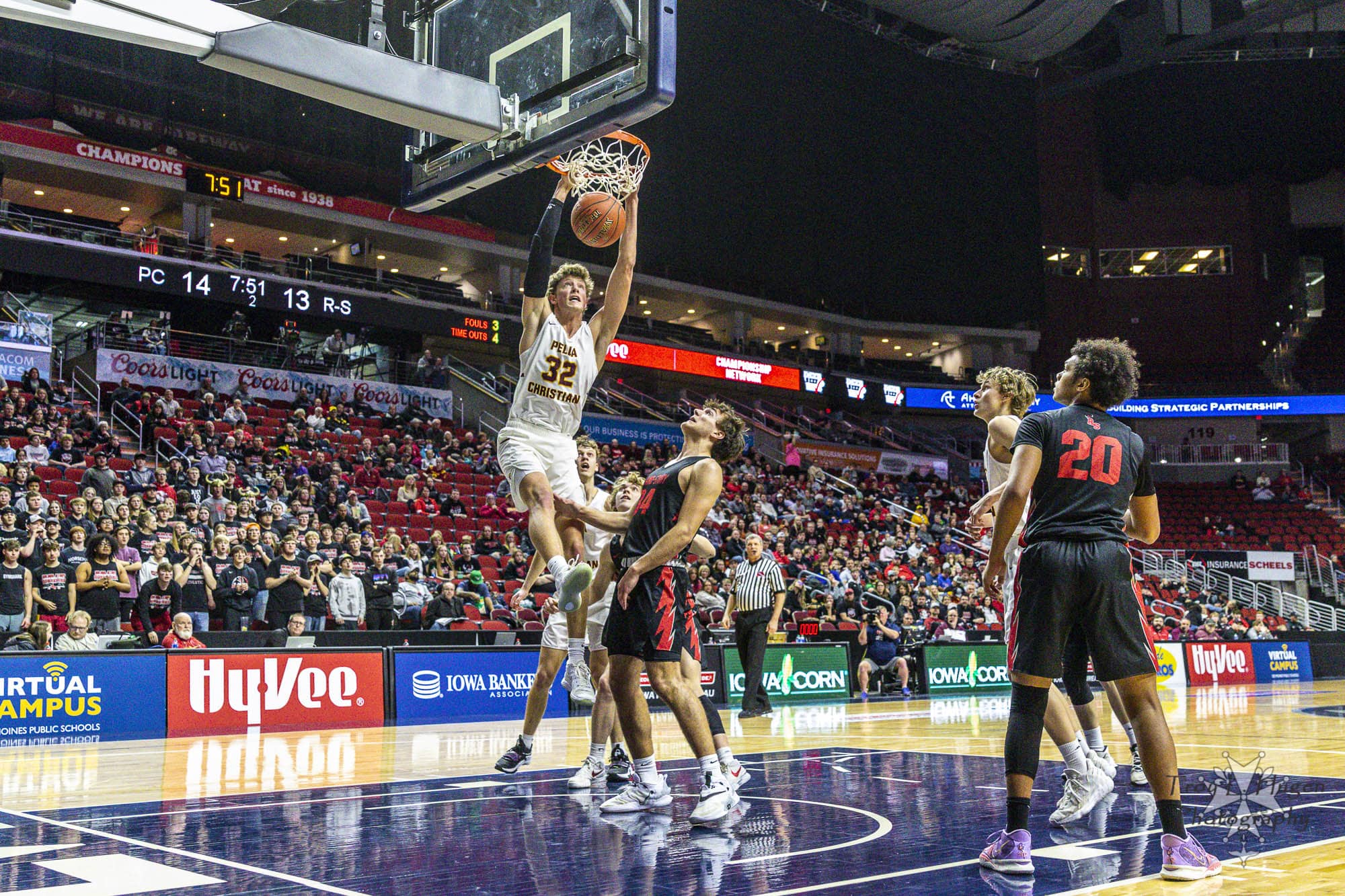 The Pella Christian boys basketball team brings us the top sports moment on Eagle Lane for the 2021-2022 school year as they bounced back from an early deficit to defeat Roland-Story 69-62 in the Quarterfinals of the State Boys Basketball Tournament on March 7th.
The Norsemen jumped out to a quick 11-2 lead in the opening two and a half minutes of the game, but the Eagles would end the period on a 12-2 run to grab the 14-13 lead at the 1st quarter buzzer. Both teams traded runs for the rest of the night, but the Eagles wouldn't relinquish the lead to take the seven-point win. Eagles Head Coach J.D. Boer credited the fight of Roland-Story, but said he was proud of his squad's resilience. 
"I'll tell you what, they made some shots there at the beginning of the game. Credit to those guys, they came out with a good plan. One thing about Roland-Story is they've got some fighters, they're not giving in, and they were ready to play and got off to a great start. I was proud of the way our guys responded, just kind of chipped away a little bit and then by the end of the first quarter we had the lead, and we never gave it back after that. And that's just a credit to the toughness and resiliency that we were showing throughout the night."
BROADCAST HIGHLIGHTS:

Senior Forward Eric Mulder posted a monster double-double with 18 points and 20 rebounds, en route to becoming the ninth Eagle in school history to be named to the Iowa Print Sports Writers Association Class 2A All-State 1st Team. Senior Guard Levi Schelhaas scored a game-high 23 points, and iced the game for the Eagles, draining nine of his 10 free throw attempts in the final two minutes. Pella Christian outrebounded the Norsemen 35-27 and outshot them 52% to 40% from the field.
The Eagles improved to 19-6 on the season and advanced to the semifinals where they fell to top-seeded Central Lyon.