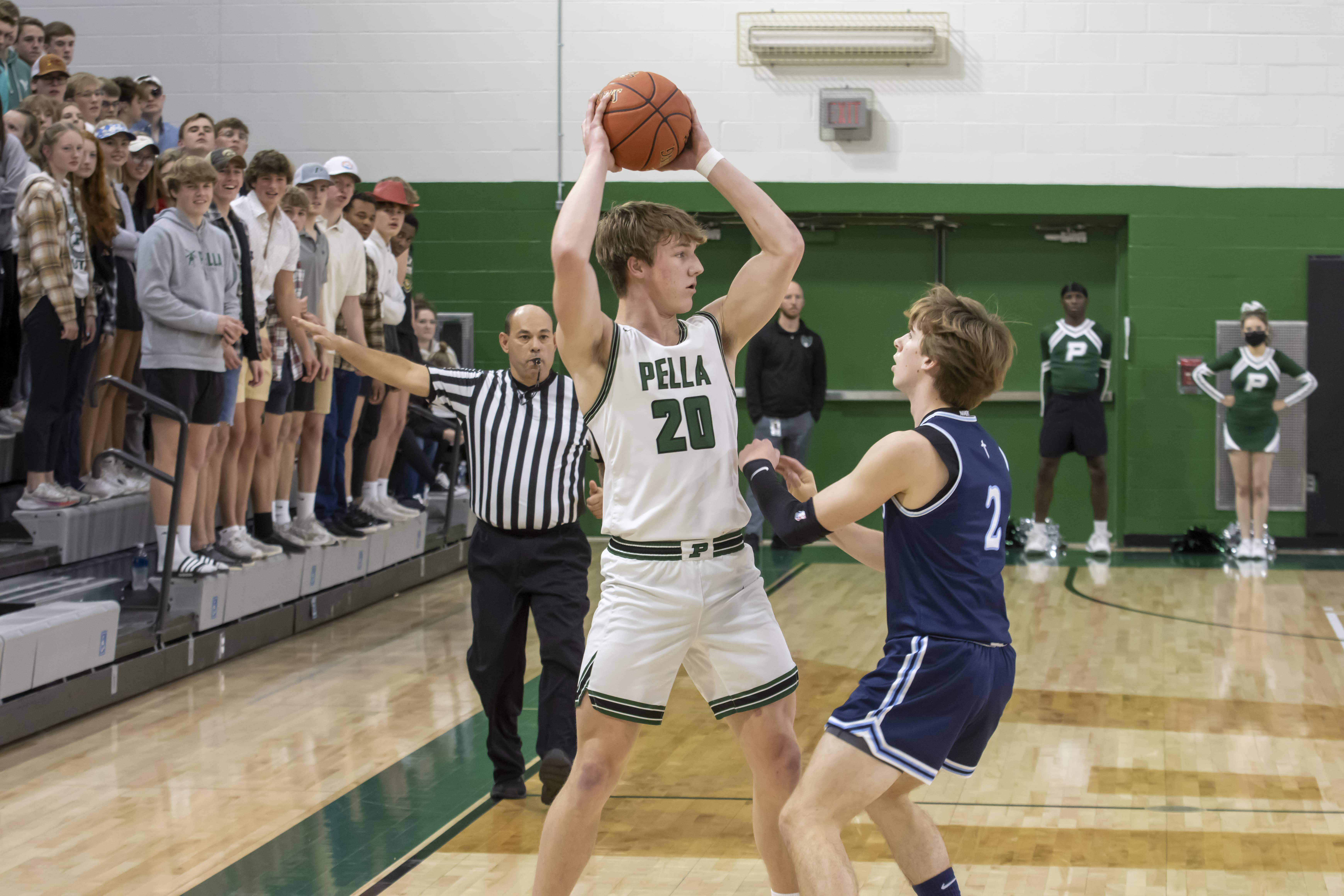 Boys Basketball Earns Huge Bounce Back Win
After arguably their toughest night of the season so far Friday against Norwalk, the Pella boys basketball team rebounded with a quality road victory in Gilbert Saturday afternoon, knocking off #7 in Class 2A Carroll Kuemper 58-55. The Dutch took advantage of getting to compete in the Gilbert Tigers Basketball Showcase, going back and forth in a contest where neither team lead by more than a handful of possessions. Cam Schulte finished with a 20-point, 11-rebound double-double, and Luke Keitges added 12 points. Pella is now 8-6 overall and returns to action on Tuesday with the girls in Grinnell.
—
Boys Wrestlers Take Five Championship Spots in Williamsburg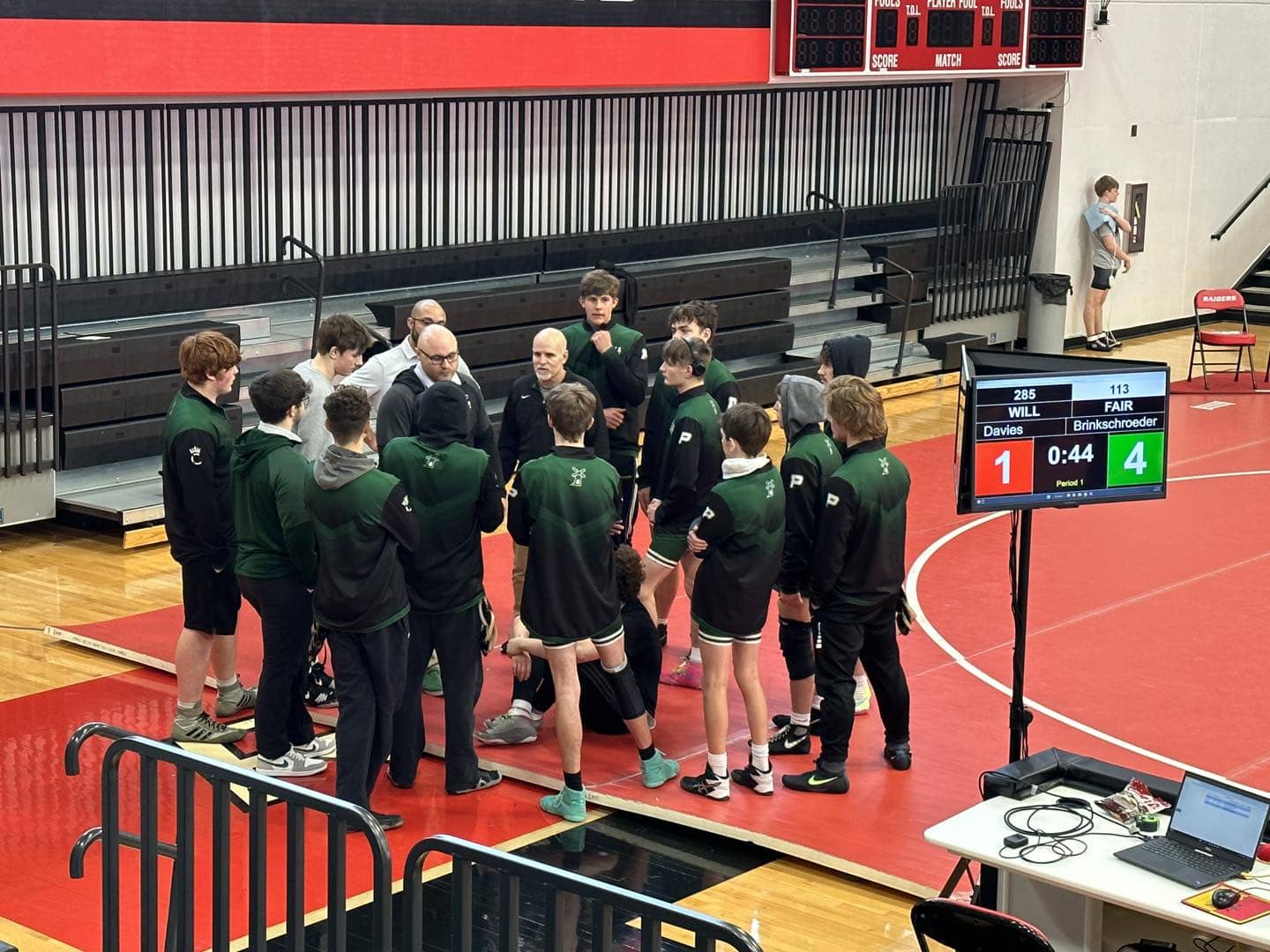 In their final regular season invitational of the 2022-23 season, the Pella boys wrestling team earned five individual championships and a 2nd place finish in Williamsburg Saturday. Among the gold medalists for the Dutch were:
Damion Clark (132)
T.R. Putz (145)
Logan Bruxvoort (160)
Jackson Van Kley (170)
Kieran Van Voorst (195)
Find full results below. Pella has its final regular season duals of the year Thursday in Grinnell against PCM and the hosting Tigers.
—
Girls Wrestlers Get Pair in Finals at Colfax-Mingo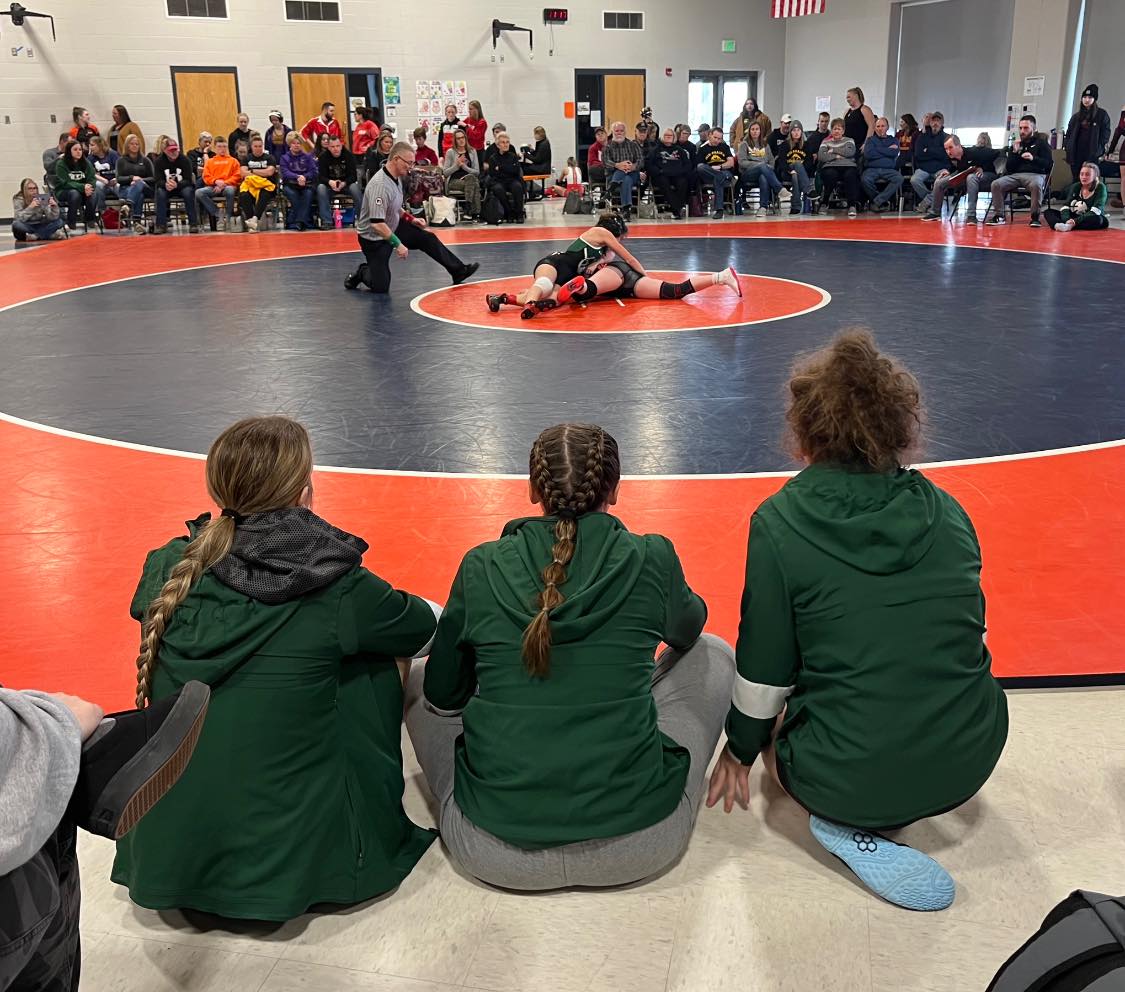 The final chance to compete before Friday's regionals turned into several solid finishes for the Pella Girls Wrestlers in Colfax-Mingo Saturday. Emmalee Spurgeon won her bracket and Jasey Olson was a runner up as the team placed 4th among 22 schools competing in the last test before Friday's state qualifying meet. Find full results below. Next up is Friday's state qualifying meet at the Iowa Events Center.
—
Girls Roll 2nd Highest-Ever Team Score as Bondurant Sweeps Pella in Bowling
A record nearly fell for the Pella girls bowling team as both Dutch squads were swept by Bondurant-Farrar Saturday at 200 Dutch Bowl and Grill. Pella's team score of 2020 was six-pins shy of the school record set on January 29th, 2022, and is the 2nd-best mark for the team, but the Lady Jays were able to claim victory with 2179 pins knocked down. Taylor Walker was the top individual with a two-game series of 311, which included one of the best individual games in program history at 190.
The Dutch boys fell 2880-2314, with Carter Failor's 345 as the top individual mark. Pella's bowlers in next in action on January 28th in Ames against Ballard.
—————————————————————–
PELLA BOYS WRESTLING AT WILLIAMSBURG
Team Scores
1 Williamsburg 214.5
2 Pella 203.0
3 Epworth, Western Dubuque 195.0
4 Grinnell 148.0
5 Fairfield 119.0
6 Mount Pleasant 31.0
Williamsburg Raider Invitational 2023 Results for Pella
106
Daniel Roozenboom (13-22) placed 5th and scored 5.0 team points.
Round 1 – Ethan Schlichtmann (Epworth, Western Dubuque) 6-18 won by tech fall over Daniel Roozenboom (Pella) 13-22 (TF-1.5 4:43 (16-0))
Round 2 – Bowen Stratton (Williamsburg) 2-2 won by fall over Daniel Roozenboom (Pella) 13-22 (Fall 2:38)
Round 3 – Daniel Roozenboom (Pella) 13-22 received a bye () (Bye)
Round 4 – Nolan Kent (Williamsburg) 3-1 won by fall over Daniel Roozenboom (Pella) 13-22 (Fall 4:42)
Round 5 – Lincoln Schropp (Williamsburg) 25-6 won by fall over Daniel Roozenboom (Pella) 13-22 (Fall 1:15)
120
Michael Muller (4-12) placed 4th and scored 9.5 team points.
Round 1 – Cooper Habel (Epworth, Western Dubuque) 12-10 won by fall over Michael Muller (Pella) 4-12 (Fall 2:32)
Round 2 – Clayton Yelland (Williamsburg) 3-2 won by fall over Michael Muller (Pella) 4-12 (Fall 1:51)
Round 3 – Michael Muller (Pella) 4-12 won by tech fall over Andrew DeJarnatt (Williamsburg) 0-5 (TF-1.5 4:00 (16-1))
Round 4 – Gavin Jensen (Williamsburg) 31-4 won by fall over Michael Muller (Pella) 4-12 (Fall 0:31)
Round 5 – Michael Muller (Pella) 4-12 won by major decision over Joshua Crecelius (Grinnell) 1-11 (MD 10-2)
126
Garret Hall (6-11) placed 2nd and scored 14.0 team points.
Round 1 – Garret Hall (Pella) 6-11 won by decision over Anthony Fenton (Williamsburg) 3-8 (Dec 12-7)
Round 2 – Garret Hall (Pella) 6-11 won by fall over Charlie Bohnenkamp (Mount Pleasant) 0-3 (Fall 0:48)
Round 3 – Garret Hall (Pella) 6-11 received a bye () (Bye)
Round 4 – Garret Hall (Pella) 6-11 received a bye () (Bye)
Round 5 – Logan McDonald (Grinnell) 26-7 won by fall over Garret Hall (Pella) 6-11 (Fall 1:08)
132
Damion Clark (28-6) placed 1st and scored 20.0 team points.
Round 1 – Damion Clark (Pella) 28-6 won by decision over CJ Kammiller (Epworth, Western Dubuque) 18-12 (Dec 5-4)
Round 2 – Damion Clark (Pella) 28-6 won by fall over Matthew Mintle (Grinnell) 21-16 (Fall 2:57)
Round 3 – Damion Clark (Pella) 28-6 won by fall over Ramzy Davis (Mount Pleasant) 0-5 (Fall 3:37)
Round 4 – Damion Clark (Pella) 28-6 won by decision over Caleb Mohr (Williamsburg) 13-21 (Dec 7-1)
Round 5 – Damion Clark (Pella) 28-6 won by decision over Zach Westercamp (Fairfield) 21-4 (Dec 9-5)
138
Peyton Ritzert (28-7) placed 2nd and scored 18.0 team points.
Round 1 – Peyton Ritzert (Pella) 28-7 won by fall over Dominic Fisher (Williamsburg) 1-4 (Fall 0:55)
Round 2 – Peyton Ritzert (Pella) 28-7 won by fall over Alex Peiffer (Grinnell) 11-22 (Fall 0:27)
Round 3 – Peyton Ritzert (Pella) 28-7 won by medical forfeit over Elijah Simons (Fairfield) 18-18 (M. For.)
Round 4 – Peyton Ritzert (Pella) 28-7 won by decision over Joe Hirsch (Epworth, Western Dubuque) 22-11 (Dec 12-6)
Round 5 – Nile Sinn (Williamsburg) 28-10 won by decision over Peyton Ritzert (Pella) 28-7 (Dec 3-2)
145
T.R. Putz (10-3) placed 1st and scored 22.0 team points.
Round 1 – T.R. Putz (Pella) 10-3 won by fall over Jagger McCool (Epworth, Western Dubuque) 23-10 (Fall 4:14)
Round 2 – T.R. Putz (Pella) 10-3 won by decision over Bowen Davis (Mount Pleasant) 1-4 (Dec 12-11)
Round 3 – T.R. Putz (Pella) 10-3 won by fall over Konner Jimenez (Grinnell) 4-7 (Fall 1:17)
Round 4 – T.R. Putz (Pella) 10-3 won by medical forfeit over Cason Miller (Fairfield) 30-9 (M. For.)
Round 5 – T.R. Putz (Pella) 10-3 won by decision over Brett Santiago (Williamsburg) 6-6 (Dec 4-0)
152
Rex Rhamy (15-18) placed 4th and scored 11.0 team points.
Round 1 – Nathan Casey (Epworth, Western Dubuque) 17-18 won by fall over Rex Rhamy (Pella) 15-18 (Fall 1:00)
Round 2 – Logan Schmidt (Williamsburg) 4-5 won by fall over Rex Rhamy (Pella) 15-18 (Fall 1:41)
Round 3 – Rex Rhamy (Pella) 15-18 won by fall over Caleb Lacina (Williamsburg) 2-8 (Fall 1:49)
Round 4 – Rex Rhamy (Pella) 15-18 won by fall over Aiden Westercamp (Fairfield) 6-27 (Fall 3:43)
Round 5 – Maxwell Mintle (Grinnell) 20-1 won by fall over Rex Rhamy (Pella) 15-18 (Fall 1:55)
160
Logan Bruxvoort (15-2) placed 1st and scored 26.0 team points.
Round 1 – Logan Bruxvoort (Pella) 15-2 won by fall over Jahmal Dodson (Mount Pleasant) 0-5 (Fall 0:43)
Round 2 – Logan Bruxvoort (Pella) 15-2 won by fall over Teylor Doty (Grinnell) 12-16 (Fall 5:17)
Round 3 – Logan Bruxvoort (Pella) 15-2 won by fall over Cam McClain (Fairfield) 9-9 (Fall 1:14)
Round 4 – Logan Bruxvoort (Pella) 15-2 won by fall over Cael Moore (Williamsburg) 22-14 (Fall 1:25)
Round 5 – Logan Bruxvoort (Pella) 15-2 won by fall over David Theisen (Epworth, Western Dubuque) 11-6 (Fall 1:48)
170
Jackson Van Kley (33-4) placed 1st and scored 23.5 team points.
Round 1 – Jackson Van Kley (Pella) 33-4 won by fall over Aiden Lyons (Fairfield) 16-24 (Fall 3:07)
Round 2 – Jackson Van Kley (Pella) 33-4 won by tech fall over Carson Grier (Williamsburg) 6-5 (TF-1.5 3:12 (15-0))
Round 3 – Jackson Van Kley (Pella) 33-4 won by fall over Tyler Kostow (Grinnell) 5-27 (Fall 0:33)
Round 4 – Jackson Van Kley (Pella) 33-4 won by fall over Conner Parker (Williamsburg) 23-10 (Fall 1:11)
Round 5 – Jackson Van Kley (Pella) 33-4 won by decision over Drew Burds (Epworth, Western Dubuque) 28-4 (Dec 11-5)
182
Nicolas Stanley (14-19) placed 4th and scored 9.0 team points.
Round 1 – Dain Burkhart (Fairfield) 26-10 won by decision over Nicolas Stanley (Pella) 14-19 (Dec 6-3)
Round 2 – Nicolas Stanley (Pella) 14-19 received a bye () (Bye)
Round 3 – Nicolas Stanley (Pella) 14-19 won by fall over Dylan Portwood (Williamsburg) 0-4 (Fall 0:24)
Round 4 – Logan Massey (Epworth, Western Dubuque) 22-3 won by fall over Nicolas Stanley (Pella) 14-19 (Fall 3:21)
Round 5 – Evan Stohlmann (Williamsburg) 2-2 won by decision over Nicolas Stanley (Pella) 14-19 (Dec 7-2)
195
Kieran Van Voorst (30-7) placed 1st and scored 22.0 team points.
Round 1 – Kieran Van Voorst (Pella) 30-7 won by fall over Jeremiah Greene (Williamsburg) 1-4 (Fall 1:01)
Round 2 – Kieran Van Voorst (Pella) 30-7 won by decision over Bryan Riedel (Williamsburg) 24-14 (Dec 6-4)
Round 3 – Kieran Van Voorst (Pella) 30-7 won by fall over Oliver Louden (Grinnell) 25-13 (Fall 0:42)
Round 4 – Kieran Van Voorst (Pella) 30-7 won by fall over Logan Johnson (Fairfield) 21-12 (Fall 1:01)
Round 5 – Kieran Van Voorst (Pella) 30-7 won by decision over Derek Hoerner (Epworth, Western Dubuque) 23-8 (Dec 7-1)
220
Kaiden Hol (15-22) placed 5th and scored 5.0 team points.
Round 1 – Talan Meredith (Grinnell) 20-20 won by decision over Kaiden Hol (Pella) 15-22 (Dec 6-5)
Round 2 – Dre Smithburg (Fairfield) 30-10 won by fall over Kaiden Hol (Pella) 15-22 (Fall 3:51)
Round 3 – Jake Murphy (Epworth, Western Dubuque) 19-15 won by fall over Kaiden Hol (Pella) 15-22 (Fall 3:57)
Round 4 – Gavin Vesey (Williamsburg) 23-16 won by decision over Kaiden Hol (Pella) 15-22 (Dec 9-4)
Round 5 – Kaiden Hol (Pella) 15-22 won in sudden victory – 1 over Wyatt Wolter (Williamsburg) 0-5 (SV-1 7-5)
285
Daniel Loftis (4-7) placed 2nd and scored 18.0 team points.
Round 1 – Daniel Loftis (Pella) 4-7 won by fall over Franklin Tousigant (Mount Pleasant) 3-2 (Fall 1:37)
Round 2 – Trenton Davies (Williamsburg) 18-18 won by fall over Daniel Loftis (Pella) 4-7 (Fall 1:43)
Round 3 – Gene Blalock (Grinnell) 32-3 won by fall over Daniel Loftis (Pella) 4-7 (Fall 3:08)
Round 4 – Daniel Loftis (Pella) 4-7 won by fall over Brandon Brinkschroeder (Fairfield) 2-3 (Fall 1:43)
Round 5 – Daniel Loftis (Pella) 4-7 won by fall over Steven Theisen (Epworth, Western Dubuque) 7-12 (Fall 1:47)
—
PELLA GIRLS WRESTLING AT COLFAX-MINGO FULL RESULTS:
Team Scores
1 Osage 244.0
2 Raccoon River-Northwest 129.0
3 Mid-Prairie 112.5
4 Pella 107.0
5 West Fork, Sheffield 102.0
6 Nevada 100.0
7 Valley, West Des Moines 99.0
8 Colfax-Mingo 98.0
9 Iowa Valley, Marengo 87.0
10 BGM, Brooklyn 77.0
11 Ballard 71.0
12 WACO, Wayland 63.0
13 Ankeny 60.0
14 Ames 50.0
15 Highland, Riverside 32.0
16 Wapello 31.0
17 Boone 28.0
17 Norwalk 28.0
19 Newton 27.0
20 Southeast Warren/Melcher-Dallas 25.0
21 Chariton 15.0
22 Saydel 0.0
100
Serenity Turner (13-11) placed 5th and scored 17.0 team points.
Champ. Round 1 – Serenity Turner (Pella) 13-11 won by fall over Kenadee Helscher (Wapello) 11-8 (Fall 3:02)
Quarterfinal – Katie Biscoglia (Raccoon River-Northwest) 38-0 won by fall over Serenity Turner (Pella) 13-11 (Fall 0:52)
Cons. Round 2 – Serenity Turner (Pella) 13-11 won by fall over McKenzie Brennecke (Valley, West Des Moines) 13-11 (Fall 5:42)
Cons. Semi – Serenity Turner (Pella) 13-11 won by fall over Elyssa Graber (WACO, Wayland) 5-8 (Fall 3:42)
5th Place Match – Serenity Turner (Pella) 13-11 won by fall over Kenadee Helscher (Wapello) 11-8 (Fall 4:22)
110
Isabella Smith (11-22) placed 6th and scored 9.0 team points.
Champ. Round 1 – Isabella Smith (Pella) 11-22 received a bye () (Bye)
Quarterfinal – Rylee Rice (WACO, Wayland) 26-10 won by fall over Isabella Smith (Pella) 11-22 (Fall 0:25)
Cons. Round 2 – Isabella Smith (Pella) 11-22 won by fall over Kylie Loffer (Iowa Valley, Marengo) 10-12 (Fall 4:41)
Cons. Semi – Isabella Smith (Pella) 11-22 won by fall over Kira Malloy (Ankeny) 1-18 (Fall 1:53)
5th Place Match – Teaghan Bird (West Fork, Sheffield) 16-15 won by fall over Isabella Smith (Pella) 11-22 (Fall 3:20)
130
Jasey Olson (20-17) placed 2nd and scored 20.0 team points.
Champ. Round 1 – Jasey Olson (Pella) 20-17 received a bye () (Bye)
Quarterfinal – Jasey Olson (Pella) 20-17 won by fall over Lily Anderson (Ames) 8-9 (Fall 2:46)
Semifinal – Jasey Olson (Pella) 20-17 won by decision over Gracie Leslie (Nevada) 36-11 (Dec 5-3)
1st Place Match – Noel Boettger (Ballard) 21-2 won by decision over Jasey Olson (Pella) 20-17 (Dec 7-0)
135
Elizabeth Thomas (13-7) placed 6th and scored 13.0 team points.
Champ. Round 1 – Elizabeth Thomas (Pella) 13-7 won by fall over Greta Stecker (Boone) 10-19 (Fall 3:09)
Quarterfinal – Lauryn Metcalf (Ames) 22-12 won by fall over Elizabeth Thomas (Pella) 13-7 (Fall 2:42)
Cons. Round 2 – Elizabeth Thomas (Pella) 13-7 won by fall over Lillie Jones (Colfax-Mingo) 5-25 (Fall 0:25)
Cons. Semi – Elizabeth Thomas (Pella) 13-7 won by fall over Elizabeth Makovec (Ankeny) 19-18 (Fall 0:58)
5th Place Match – Coral Lowry (BGM, Brooklyn) 16-8 won by fall over Elizabeth Thomas (Pella) 13-7 (Fall 4:49)
140
Ellison Ritzert (6-15) place is unknown and scored 4.0 team points.
Champ. Round 1 – Chloe Etten (BGM, Brooklyn) 24-6 won by fall over Ellison Ritzert (Pella) 6-15 (Fall 1:08)
Cons. Round 1 – Ellison Ritzert (Pella) 6-15 received a bye () (Bye)
Cons. Round 2 – Ellison Ritzert (Pella) 6-15 won by fall over Irisa McCracken (Ankeny) 4-10 (Fall 1:14)
Cons. Semi – Katelynn Huebsch (Osage) 28-18 won by tech fall over Ellison Ritzert (Pella) 6-15 (TF-1.5 6:00 (15-0))
155
Emmalee Spurgeon (33-3) placed 1st and scored 26.0 team points.
Champ. Round 1 – Emmalee Spurgeon (Pella) 33-3 received a bye () (Bye)
Quarterfinal – Emmalee Spurgeon (Pella) 33-3 won by injury default over Krystal Rickman (Nevada) 14-20 (Inj. 0:57)
Semifinal – Emmalee Spurgeon (Pella) 33-3 won by fall over Megan Reid (Wapello) 7-7 (Fall 1:39)
1st Place Match – Emmalee Spurgeon (Pella) 33-3 won by decision over Raelene Hawkins (Iowa Valley, Marengo) 29-6 (Dec 5-4)
170
Andie Branson (14-23) place is unknown and scored 3.0 team points.
Champ. Round 1 – Andie Branson (Pella) 14-23 received a bye () (Bye)
Champ. Round 2 – Glorious Fridley (Southeast Warren/Melcher-Dallas) 16-10 won by fall over Andie Branson (Pella) 14-23 (Fall 3:43)
Cons. Round 2 – Andie Branson (Pella) 14-23 won by fall over Payhten Schlosser (Saydel) 4-19 (Fall 3:24)
Cons. Round 3 – Destiny Booone (WACO, Wayland) 11-8 won by fall over Andie Branson (Pella) 14-23 (Fall 1:11)
190
Elaine Babcock (23-12) placed 6th and scored 13.0 team points.
Champ. Round 1 – Elaine Babcock (Pella) 23-12 won by fall over Sturgis Fridley (Southeast Warren/Melcher-Dallas) 12-12 (Fall 4:35)
Quarterfinal – Breanna Peach (Iowa Valley, Marengo) 26-1 won by fall over Elaine Babcock (Pella) 23-12 (Fall 0:53)
Cons. Round 2 – Elaine Babcock (Pella) 23-12 won by fall over Madeline Seeber (Ankeny) 9-7 (Fall 0:52)
Cons. Semi – Elaine Babcock (Pella) 23-12 won by fall over Addison Schenker (Osage) 23-20 (Fall 2:49)
5th Place Match – Melanie Martinez (Ankeny) 31-7 won by fall over Elaine Babcock (Pella) 23-12 (Fall 0:52)
235
Liisbeth Rosenstein (5-6) place is unknown and scored 2.0 team points.
Champ. Round 1 – Madeline Benge (Norwalk) 16-21 won by fall over Liisbeth Rosenstein (Pella) 5-6 (Fall 2:41)
Cons. Round 1 – Liisbeth Rosenstein (Pella) 5-6 received a bye () (Bye)
Cons. Round 2 – Liisbeth Rosenstein (Pella) 5-6 won by decision over Abigail Slater (BGM, Brooklyn) 10-10 (Dec 5-1)
Cons. Semi – Cythina Ellis (Ames) 4-7 won by fall over Liisbeth Rosenstein (Pella) 5-6 (Fall 0:45)