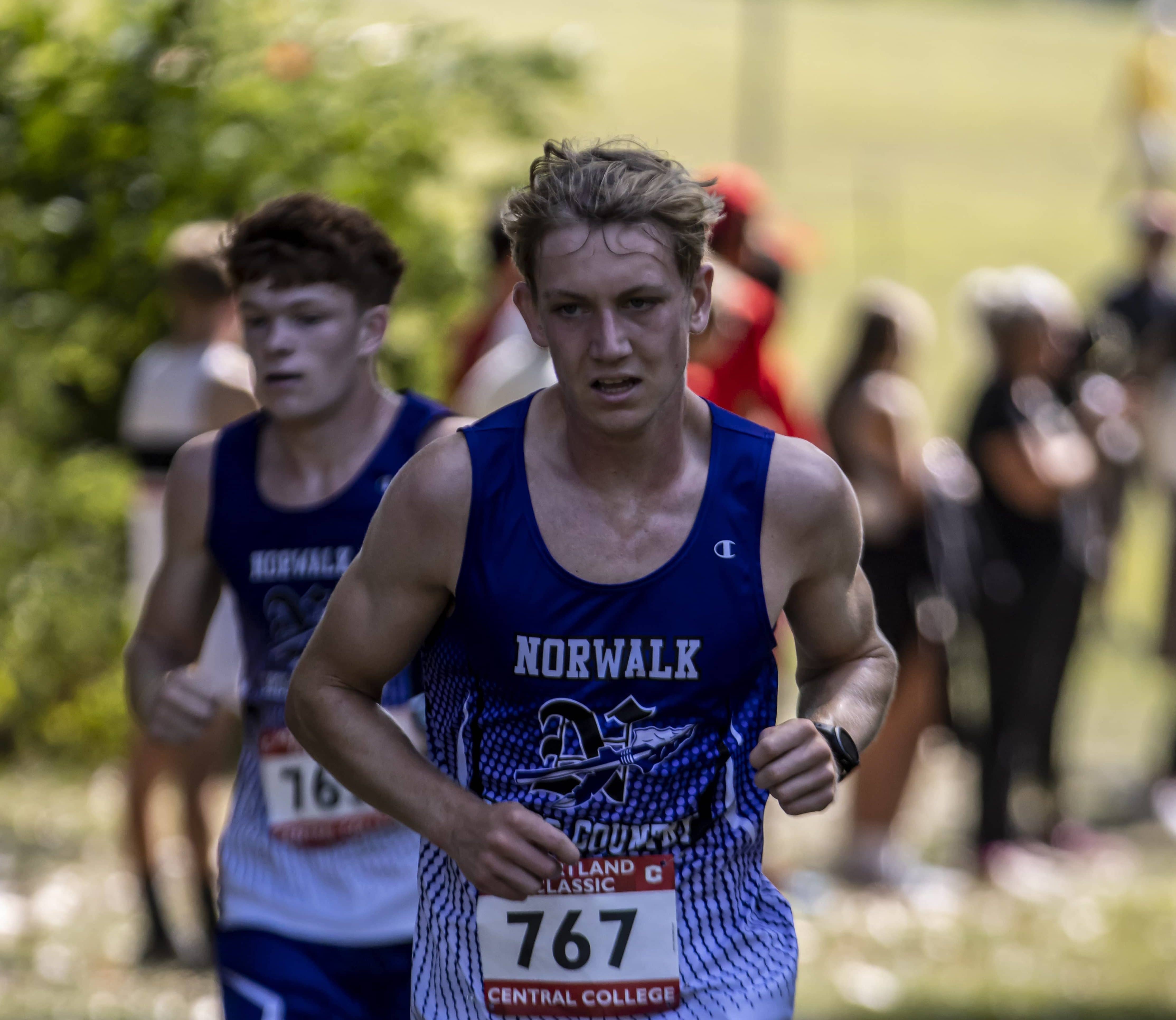 The Norwalk boys cross country team placed 10th and the girls were 19th in Saturday's Heartland Classic at Central College in Pella. The Warrior volleyball team was also in action, losing a pair of tough three-setters at the Waukee Invitational and finishing 2-3 as Noelle Sutcliffe and Grace Dehmer surpassed impressive career milestones.
Cross Country recap
Competing against a talented field of 199 runners, Norwalk senior Noah Buhrow and junior Tony Anania earned top-20 finishes in the Heartland, placing 13th and 18th, respectively. Buhrow ran a 5-kilometer time of 16 minutes flat. Teegan Kralik finished 36th and Henry Groos came in 80th for the Class 4A fifth-ranked Warriors, who posted a team score of 260 for 10th out of 28 squads. Gilbert won the team title over Dowling Catholic by a margin of 169-183.
The Norwalk girls finished 19th out of 21 schools, scoring a 511. Freshman Lhotse Samuelson led the Warriors with a time of 21:57 for 87th overall. Pearl Brown finished 94th, followed by Anita Scholten 107th and Brooke Seeley 111th. Millard West outlasted Little Hawkeye Conference schools Dallas Center-Grimes and Pella for the girls team title.
Both Warrior squads will compete in the Griak Invitational this Friday at the University of Minnesota.
Volleyball recap
The Norwalk volleyball team finished 2-3 at the Waukee Invitational and now stands 13-10 on the season. Individually, seniors Noelle Sutcliffe and Grace Dehmer became the third and fourth players in program history to reach 1,000 career digs and Sutcliffe also exceeded 1,000 career kills. Sutcliffe, who was already the school record holder for kills, finished Saturday's tournament with 51 kills and 48 digs. Dehmer put up a team-high 64 digs on the day.
The Class 4A sixth-ranked Warriors lost two out of three matches in pool play, defeating Sergeant Bluff-Luton 21-14, 21-19 while losing to 5A No. 8 West Des Moines Valley 15-21, 13-21 and 5A No. 3 Ankeny 23-21, 18-21, 12-15.
In bracket play, Norwalk handled Gilbert 25-13, 25-19 but lost another tight three-set decision against 4A No. 14 Knoxville. The Panthers won set one 25-21, the Warriors tied things up with a 25-22 win and Knoxville took the third set 15-13.
Norwalk returns to Little Hawkeye Conference play on Tuesday night at Pella.