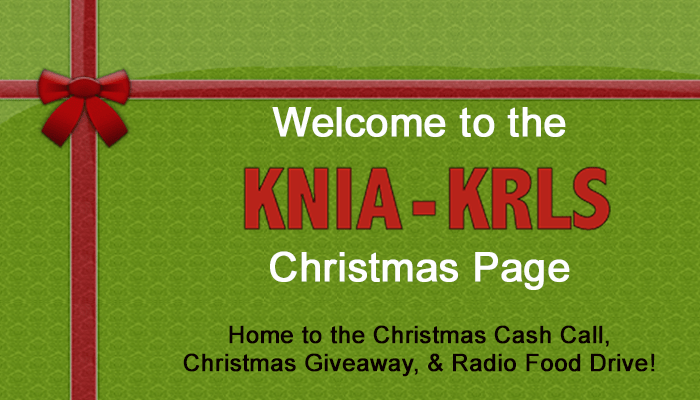 The Tradition Continues…
The 22nd Annual
KNIA-KRLS
CARING CHRISTMAS!
For OVER 2 decades – along with our listeners and our clients, KNIA-KRLS has provided tens of thousands of dollars in gifts to area food shelves with the "Caring Christmas Radio Food Drive". There remains a great need in all of our communities and this year we're asking you to make a direct donation to your local food shelf.
Listen every Friday for KNIA-KRLS Special Edition News Magazines on "Food Drive Friday":
Listen live on KNIA & KRLS every Friday at 9am, 2pm and 6pm this November and December to learn more!
---
We also have 2 Ways YOU can win CASH this Christmas!
1 ) Christmas Cash Call
We're giving away CASH on-air, just listen to KNIA 95.3 FM, 94.3 FM, 1320 AM, and/or KRLS 92.1 FM throughout the day for your chance to call in and win! We'll ask for callers and if you're the correct caller you'll have a chance to "Spin The Wheel" for your chance to win cash live on the air! By playing you'll also be automatically registered for the Christmas Giveaway!
2) Christmas Sweepstakes Giveaway
3 lucky winners will be drawn to win $500! There are 2 Ways to qualify:
Register online at the link below.

On-Air Instant Qualifiers for those that play the Christmas Cash Call contest.