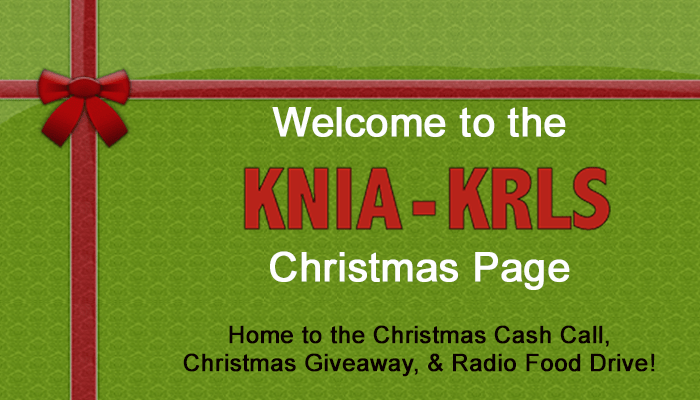 The Tradition Continues…
The 21st Annual KNIA-KRLS
Caring Christmas
For two decades – along with our listeners and our clients, KNIA-KRLS has provided tens of thousands of dollars in gifts to area food shelves with the "Caring Christmas Radio Food Drive" and to celebrate 21 years, we're hosting the "2nd Annual Food Drive Radiothon"
Knoxville Food Shelves help, 450+ Families served per month (~1,300 people)
Pella Food Shelves serve over 10% of the population every month.
Indianola Food Shelves have nearly 200 families served each month.
This year we have 4 great ways for you to
donate to the 2022 Radio Food Drive!
Watch for the Big Red Radios and listen for our Live Remotes for an opportunity to drop off food or donations at our local grocery stores.
Look for QR Code "Table Toppers" at our participating Sponsors, scan the QR code with your smartphone's camera, which will direct you to a safe, secure way to make a contactless money donation processed by Square.
Click the BIG RED BUTTON on our website to access the same Square processing page to easily donate to the food drive.
The 2nd Annual KNIA-KRLS Food Drive Radiothon! We'll be live on the radio talking with local people about the importance of donating and the need of the communities we live in! We'll be asking for pledges and donations during the event!
The 2nd Annual KNIA-KRLS Food Drive Radiothon:
Listen live on KNIA & KRLS on Tuesday, November 15th from 6am-5pm
---

---
We also have 2 Ways YOU can win cash this Christmas!
1 ) Christmas Cash Call
We're giving away CASH on-air, just listen to KNIA 95.3 FM, 94.3 FM, 1320 AM, and/or KRLS 92.1 FM throughout the day for your chance to call in and win! We'll ask for callers and if you're the correct caller you'll have a chance to "Spin The Wheel" for your chance to win cash live on the air! By playing you'll also be automatically registered for the Christmas Giveaway!
2) Christmas Sweepstakes Giveaway
3 lucky winners will be drawn to win $500! There are 2 Ways to qualify:
Register online at the link below.
On-Air Instant Qualifiers for those that play the Christmas Cash Call contest.