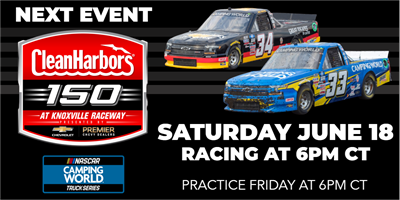 While sprint car racing takes a couple of weeks off from the Knoxville Raceway, the half-mile will not sit silent at least for this week as for the second time in the last two years, the NASCAR Camping World Truck Series will hold a race at the raceway. Saturday's Clean Harbors 150 will take the green flag at around 6:00 with tonight two sessions of practice for the drivers to get their machines tuned up for the race on Saturday. One driver that has a little experience in sprint car racing is on the entry list is Stewart Friesen. His wife…Jessica is a former sprint car driver…who is also entered into this week's race. Several years ago she tabbed him to drive her sprint car while she was pregnant with their child. Friesen raced in last year's race and tells KNIA/KRLS Sports they missed on the set up and then got caught up in a late race crash.
Freisen: "We kind of threw the kitchen sink at it last year at Knoxville and got up to 10th and then got caught up in a crash, but we really would love to win at Knoxville as it would truly be something special."
Friesen has a World of Outlaws sprint car win at Ohsweken Speedway in 2015. Tonight's action will be divided into two practice sessions. The first one will be at 6:05 and after an hour of track prep, the final practice session will start at 8:02. Qualifying heats will start Saturday at 6:00 with the final race set to begin at 8:00. You can listen to the Clean Harbors 150 Saturday starting at 6:00 on KNIA via the Motor Racing Network.