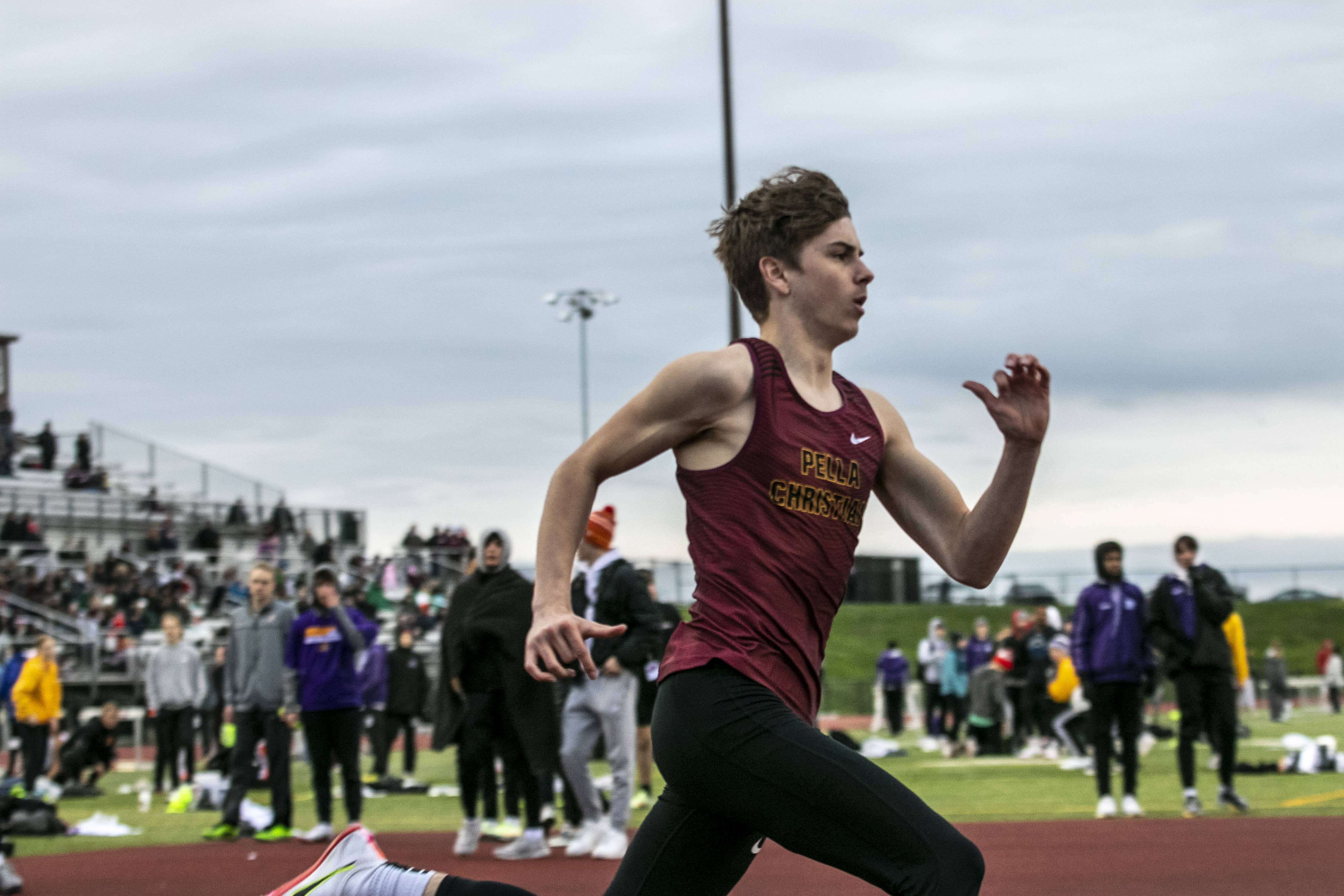 The Pella Christian, PCM, and Pleasantville track and field teams all earned automatic qualifiers for the State Meet next week. 
The Pella Christian track and field team will compete in at least eight events at the Drake Blue Oval next week. For the second year in a row, Levi Schelhaas qualified for four events at the State Meet. Individually, he won the 200m and 400m dashes. Schelhaas was also a part of the state qualifying 800 sprint medley relay team and 4x400m relay team with teammates Drew Geetings, Luke Nikkel, Daniel Andringa, Peyton Ritzert, and Noah Nunnikhoven. Ritzert also qualified for the 400m hurdles. Trevor Veenstra qualified for both the shot put and discus, and Cara Veenstra won the high jump to earn her spot at the State Meet. Schelhaas said that it is an honor to compete in four events at state for the second straight year and is glad he can share the accomplishment with his team.
"I love competing with my teammates and it's just great to go there again and win four events tonight. It's awesome to be with my teammates who have worked with me the whole year and some of them for four years and the coaches that have been here for 3-4 years and that's awesome."
The PCM track and field team will compete in at least six events at the State Meet. Aiden Anderson earned a spot at state in the 200m dash, and Gavin Fenton qualified in the 400m hurdles. The boys shuttle hurdle relay team of Gavin Fenton, Trey Broderson, Gavin VanGorp, and Griffin Olson will run at the Drake Blue Oval next week. Delaney Baird was a three-event qualifier Thursday. She will run in the 100m and 400m hurdles, in addition to the girls shuttle hurdle relay with Belle Hudnut, Kate McClellan, and Chelsea Bird. The girls shuttle hurdle relay qualified for the second year in a row and Hudnut was excited for the opportunity to compete at state again.
"We went last year with our graduated senior Margo Chipps, and so all of us are returning with our new addition, Laney Baird joining in as a senior this year. And so it's really awesome for all of us to be going back and have another shot at this year. So it's really cool."
Alex Blackford in the long jump was the lone qualifier for the Pleasantville Track and Field squads Thursday night. Blackford placed 2nd at the meet with a leap of 15 feet 2.25 inches.  Blackford told KNIA Sports she feels fortunate to have qualified after not taking a long of tries this season.
"This was my 4th jump of any meet, like I said it's a blessing to qualify and now I have a chance."
The top two finishers automatically qualified for the State Meet, while the next eight best performances will earn an at-large bid. The announcement of at-large bids will be made at noon on Saturday. Stay tuned to KNIA/KRLS for coverage of the 2022 State Track and Field Meet next week.